Eight crew members had to abandon their sinking sand barge and board another boat in rough seas off Hong Kong Disneyland Park as the city was being pummelled by Typhoon Mangkhut on Sunday. Some buildings, including the One Harbourfront office tower, had many windows smashed after a day in which some of the city's skyscrapers had swayed with the ferocious gusts.
Hong Kong had issued its highest typhoon warning and the storm caused severe air and land transport disruptions.
As of Monday, local authorities told NBC News that they were searching for 56 people who were still missing.
Typhoon Mangkhut was the most powerful to strike this year, with Hong Kong and parts of China also being severely hit.
"Prepare for the worst", Hong Kong Security Minister John Lee Ka-chiu urged residents.
Dozens of residents sought shelter during the storm on Saturday despite warning it was unsafe.
TWO Filipino tourists were hurt while 41 others were rescued as Typhoon Mangkhut battered Hong Kong, the Department of Foreign Affairs (DFA) said on Monday.
Winds of up to 127mph have left a trail of death and destruction from China to the Philippines.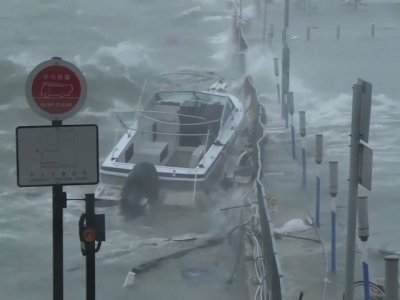 EU brings P125M worth of emergency aid to 'Ompong'-hit areas
The typhoon is already the city's most powerful storm on record and looks set to become its most destructive, after Typhoon Hato left a record $110 million claims bill following its impact previous year.
At least 65 have died across the Philippines, and rescuers are digging through the mud following a landslide in Itogon, where at least 32 were killed, and many more are missing, presumed dead.
The China Meteorological Administration said the typhoon, dubbed "King of Storms", swept west to Guangxi province at 6 a.m. (2200 GMT on Sunday) and weakened to a "tropical storm".
The national police said most of the fatalities were recorded in Luzon island's Cordillera mountain region, which was badly hit by landslides.
The Philippine government has ordered a stop to all illegal mining in six mountainous northern provinces in a drastic decision to prevent more tragedies after Typhoon Mangkhut set off landslides that trapped dozens of poor people, including small-scale miners.
According to the National Disaster Risk Reduction and Management Council, damage to the Philippines' agriculture from typhoon Mangkhut ballooned to an estimated 14.3 billion pesos (264.3 million US dollars).
The typhoon struck at the start of the rice and corn harvesting season in the Philippines' northern breadbasket, prompting farmers to scramble to save what they could of their crops, Cagayan Gov. Manuel Mamba said.
Needles hidden in Australia strawberries also seen in banana and apple
Smith said that all offenders involved in the pranks would "feel the full weight of the law", Seven News reported. There have been reports of needles being found in strawberries around the country.